Communications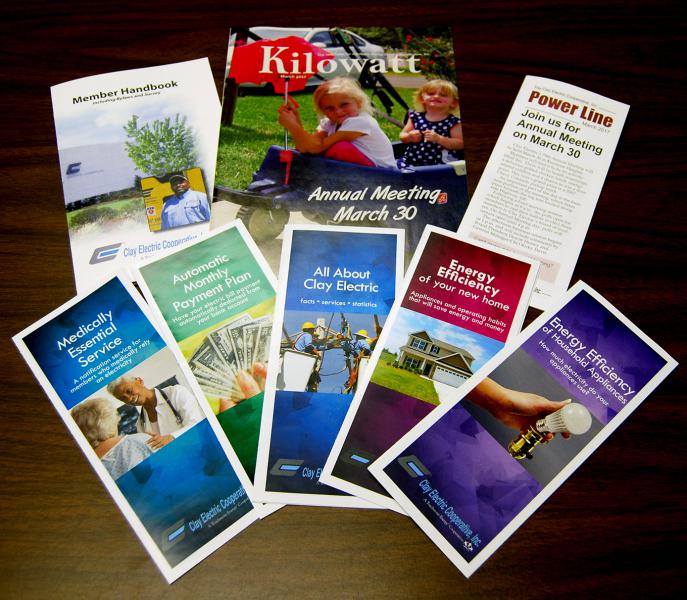 Member Handbook
The Clay Electric Customer Handbook contains more than 20 pages of information about Clay Electric. Topics include reporting a power outage, member ownership, a listing and explanation of various member services, a sample electric bill and terminology, how to read a meter, and brief overviews of the co-op's youth programs and communications. The Handbook also includes a copy of the co-op's bylaws. The Handbook is mailed to all new members of the co-op. Copies are available at each district office and online. 
Member Handbook (PDF)
Kilowatt Newsletter
The co-op's newsletter, the Kilowatt, is published and mailed to each member six times a year: January, February, May, July, September and November. The Kilowatt newsletter includes information about current events, special notices pertaining to trustee district meetings and annual meetings, stories about members and much more, including special reports by the General Manager/CEO and the Trading Post.
July 2022 Kilowatt (latest issue) (PDF)
Archived Issues
May 2022 Kilowatt
March 2022 Kilowatt
January 2022 Kilowatt
December 2021 Kilowatt
September 2021 Kilowatt
 
Power Line Bill Insert
A monthly bill insert called the Power Line also features information about the co-op, including a message by the General Manager/CEO, as well as energy and safety information.
August 2022 Power Line (latest issue) (PDF) 
Archived Issues
July 2022 Power Line
June 2022 Power Line
May 2022 Power Line
April 2022 Power Line
March 2022 Power Line
February 2022 Power Line
January 2022 Power Line
December 2021 Power Line
November 2021 Power Line
October 2021 Power Line
September 2021 Power Line
Archives
News Release Archive
Publications Archive
Videos
View our Youtube channel of Clay Electric videos
View energy efficiency videos from Seminole Electric